How to Create a Cold Snowy Winter Scene in Photoshop
As we're approaching the end of the hottest summer and worst drought in recorded history here in Texas, I decided a nice cold winter scene tutorial was in order. In this tutorial I'm going to walk you through my process and the techniques I used to create this nice cold winter portrait.
Preview
Below is a preview of what we'll be creating. It already feels cooler in here, doesn't it?
Step 1
First off I knew that I wanted a person in this scene. Someone who's nice and bundled as if they're standing out in the cold. After some searching I found a great pic that you can grab
here
.
After staring at the image for a bit and visualizing the potential. I decided to cut the girl from the background. I did this by painting in Quick Mask Mode. There are so many ways to cut objects from their backgrounds, I'm sure you have your own method to do so. QMM is probably my favorite. If you use that method, be sure to check out my
post on brush resizing
as it comes in very handy when using QMM.
Step 2
Next we need to create a new canvas and paste the girl cut out onto it. Let's create a new file at 2500x3600 300dpi. Add the girl to a new layer.
Let's go ahead and sharpen her up a bit by duplicating her layer and going to Filter / Other / High Pass set the Radius to around 8.0.
Step 3
Now I want start adding to the background. First I added some tree branches using the
Branches in Winter
PS brush set.
Then I added some clouds by grabbing a texture from the
Vintage Clouds
texture set here at WeGraphics.
To finish out the background I added a simple white gradient to the bottom to remove the hard edge created by the tree branches and sky texture.
Step 4
I like where this is going so far. Now I want to start thinking about the foreground. I know I want to add some snow and maybe and other elements to make the image appear even more cold. But first I want to add some light from behind the girl. I did this by simply creating a new layer above hers and clicked around her shoulders using a large soft white brush. I only clicked twice with two slightly different sized brushes.
Step 5
Now it's time to add some snow. This is my favorite part. I do this by creating a custom scatter brush. Start by choosing a soft white brush around 60 pixels. Then open the brush controls, and modify the settings as follows.
The trick here is to be subtle. It's easy to go overboard because painting with scatter brushes can be a lot of fun. I added two layers for my snow. One at 60px and one slightly smaller. I added some Gaussian Blur to the layer containing the 60px snow so that it appears more in the foreground of the camera and out of focus.
Step 6
Now it's time to start adjusting the mood with some color. I did this by first making the entire image black and white. I created a new B&W adjustment layer and moved it above all other layers.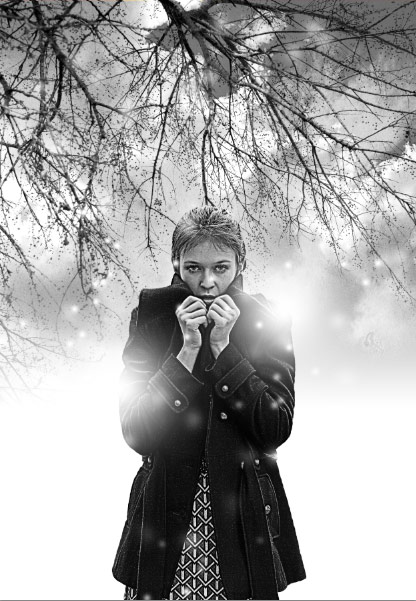 That looks good, but I want to add a slight blue hue to the entire scene to make it feel even colder. I then created a new color fill adjustment layer set to #cceaf8. and moved it above the B&W adjustment layer.
I like that? But I want a little more contrast in the scene, so I add one more adjustment layer. This time I use Levels to adjust the contrast using the settings below.
Step 7
After looking at this stage for a bit, I decided that I want more of my snow to be visible. To make that I happen, I added a simple black gradient in a new layer above the girl.
I also think a little more texture is needed, so I grabbed one of the Subtle Grunge Textures, available here at WeGraphics, and pasted it into a new layer above the black gradient. I inverted it Cmd+i and then set the Layer Blending Mode to Screen.
Step 8
Now I want to add a blurred edge around the entire scene in oder to put the focal point of the piece right on the girls face. To do this I want to create a new layer that is a merge of all my existing layers. Select Layer / Merge Visible while holding down the Option key (Alt key for PC) on the keyboard. Now if you new layer is not at the top of the stack move it there, then control click the layer and choose Convert to Smart Object from the pop menu. If you're not familiar with Smart Objects? then sit down, your mind is about to be blown. :-) Now choose Filter / Gaussian blur and give the layer a pretty healthy amount of blur. Once you do this, you'll notice that the filter acts as a mask on the selected layer. Pretty cool. Now select the Smart Filter Gaussain Blur and begin to paint in the center of the scene. You'll notice immediately that you're removing the blur filter.
Step 9
Almost there? Now I want to add a grungy border around the image. I did this using a
Grunge Borders
brush set.
Conclusion
I hope you found the process interesting and picked up some new and useful techniques from this tutorial. And for those of you in parts of the world where it is incredibly hot right now? I hope it cooled you off just a little bit. :-) The soundtrack for this tutorial is:
William Fitzsimmons
-
The Sparrow and the Crow